Solar Power Plant Design Course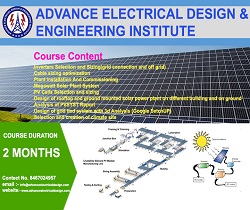 Solar energy
industry is blooming in India . As per sources By 2050,
solar power
is Anticipated to become the world's largest source of electricity. The rapid Acceleration in the solar industry inspires confidence in the future of sustainable Energy. The employment opportunity in solar energy industry has been increasing day by day.
AMCDEI
Offers
solar power plant design
course or
Solar PV course
course which will put you on the road to success. Our
Solar energy
course will help you to become Future solar installer, photovoltaic designer or other
solar specialist
.
Advance Mechanical and Civil Design Engineering institute offers Solar PV course only use accredited centers providing certificates which are Recognized by all the current type solar power plant like roof top solar power plant, land based solar PV plant, off grid solar system(Battery bank system) Complete the e requirement of nation.
Our faculty for solar power design course is very experienced and well managed. We Prefer to provide the best of education and knowledge in this field so that you Could achieve bigger and higher.
---
Syllabus of Solar Power Plant Design Training
---
Chapter 1 - Types of Solar Power Plant
Grid Connected solar Power Plant
Grid interactive solar power plant
Net Metering Solar Power Plant
Off-Grid / Hybrid solar power plant
Schemes of solar power plant
Chapter - 2 selection of site and shadow analysis
PV module structure interrow spacing calculation
Pitch analysis
Selection of PV module tilt angle
Near shading object calculation
Site survey and plant assessment
Type of solar radiation
Irradiance assessment and comparison
Solar Radiation Data
Sun path Diagram
Defining the Position of the Sun
Solar Altitude
Geometric Effects
Tilting Solar Modules
Magnetic North & True North
Chapter- 3 Selection of PV module technology
Introduction
Crystalline technology
Thin film technology
Bi-facial technology
Comparison between PV module technology
Comparison between solar power plant energy out put
Chapter- 4 Selection of PV module (cells and BOM) and sizing
Types Crystalline module cells
Manufacturing process of PV cells
Comparison between mono crystalline
Selection of PV cells
Selection of front and rear sheet
Selection of PV module glass
Selection of EVA sheet , Bus bar and frame
Characteristics of a Solar Cell
Power Characteristics of a Solar Cell
Fill factor and Equivalent Solar cell Circuit
STC and NOCT
Chapter 5 - Inverters Selection and Sizing (Grid Connection and Off Grid)
Types of solar inverter
Selection of string /central / off grid inverter
Selection of power conditioning unit (PCU)
Sizing of solar inverter for roof top and grid connected projects
Selection and sizing of string inverter
Selection and sizing of central inverter
AC/DC overloading calculation and losses
Protection requirement of solar inverter
Passive and active protection
Anti- islanding protection
Mounting arrangement of string inverter
IEC/IEEE /Grid Compliance of inverters
Grid-Connected Inverters vs. Stand-Alone Inverters
Inverter Communication and remote monitoring
Inverter Products For Use In India
Chapter 6 -Connection of PV Module(Series and Parallel Circuit)
Introduction
Cabling
Array String Protection and Disconnect Switches
Lightning Protection
Array Junction Box
PVMain Disconnection Devices
Metering
System Monitoring: Local and/or Web Based Display
Chapter 7 - Energy Efficiency and Calculation
Introduction
Energy Efficiency Measures
Overview of Passive Solar Design Principles
Chapter 8 -Solar Power Plant String Combiner Box/ ACDB/ MDB/Metering cubical
Selection and sizing of SCB/SMB
Selection of Isolator/ fuse
Selection of Monitoring of SCB/SMB
Mounting arrangement of SCB/SMB
ACDB Switchgear sizing
Types of energy meter and selection
Chapter 9- Solar power plant HT switchgear selection and sizing
Selection and sizing of inverter duty transformer
Selection and sizing of HT switchgear
Selection and sizing of ICOG/ Main switchboard
Selection and sizing of Aux. transformer
Aux. Losses calculation
Inverter duty No-load and load losses calculation
Chapter 10 -Selection and sizing of AC and DC Cable
Ampacity calculation of solar cable
Sizing of solar cable /DC cable
Sizing of String cable
Derating factor of cables
Sizing of AC cable (Inverter to ACDB ,ACDB to MDB)
Sizing of DC cable (Module to SMB , SMB to Inverter )
HT Cable sizing ( Transformer to HT switchgear and HT switchgear to Pooling station /Metering Point
Derating factor s of HT cables
HT cable Short circuit withstand capability calculation
Sizing of energy meter /ABT Meter
Chapter 11 - Selection and sizing of AC /DC Side Earthing
Types of earthing
Types of Earthing strip/ ground conductor
Types of Vertical electrodes
Sizing of Cross section area of GI strip
Resistance calculation of GI strip
Resistance calculation of Pipe electrode
Solar Plant resistance calculation
Preparation AC /DC earthing layout
Chapter 12 - Solar Power Plant Substation and switchyard
Preparation of Protection SLD
Selection and sizing of Substation
Preparation of ring main and redial feeder SLD
Selection and sizing of Power transformer
Selection and sizing of Current transformer
Selection and sizing of PT/Isolator/Breaker
Construction of 33KV/132 KV substation
Construction of four pole structure
Construction of metering switchyard
Selection sizing of switchyard earthing
Chapter 13 - Selection and sizing Lightening Protection (LA ):
Types of Lightening Protection Arrestor
Lightening protection assessment calculation
Protection zone calculation of Conventional type LA
Down conductor cross section area calculation
Method of Lightening protection
Basic Consideration for Protection
Calculations for Evaluating the Need for Protection
Calculation of Protective Angles and Zone of Protection For Various
Forms of Air Termination
Selection of lightening protection device
Selection of ESE type Lightening Protection
ESE LA down conductor and earthing calculation
Preparation LA layout
Chapter 14 - System Losses of Solar Power Plant
Determining the Size of the DC and AC Cables
Losses in a Grid-Connected PV System
Chapter 15 -Solar Power System Yield Performance(Energy Guarantee)
What Determines the Energy of a System
Preliminary Planning
Calculating the Energy Yield for a PV Grid-Connected System
Specific Yield
Performance Ratio
CUF Calculation
Chapter 16 -Plant Installation and Commissioning
IEC Standards
Equipment Selection-Warranties
Equipment Installation
Monitoring Equipment
Commissioning
System Installation & Pre-Commissioning Checklist
Commissioning Test Sheets
Chapter 17 - Maintenance And Troubleshooting
System Maintenance
Troubleshooting
Equipment Installation
Monitoring Equipment
Commissioning
System Installation & Pre-Commissioning Checklist
Commissioning Test Sheets
Chapter 18 - Costing and Tendering Of Solar Power Plant
Introduction
Simple Payback
Life Cycle Costing
Determining Costs Associated with the Whole PV System
Valuing a PV System
Chapter 19 - Smart Grid/Net Metering
Smart Grid
Smart Meters
PVsyst, meteonorm, Google sketchup
Chapter 20 - Module mounting Structure Design (MMS)
Classification of various material for module mounting structure (MMS)
Module mounting structure design for fixed tilt , seasonal tilt and tracker
Properties of various metal ( galvanized , Pre Galvanized )
Structure design based on wind speed calculation
Fabrication drawing
MMS fastener specification
MMS specification
Chapter 21 - Module mounting structure foundation
Type of pile
Difference between RCC pile and PCC pile
Pile foundation calculation
Pile Load bearing calculation
Foundation diameter calculation
Rooftop Structure foundation calculation
Pile foundation marking / grid marking
Pull out and lateral load calculation
Ref. Std. IEC IEC 60068-2 (1,2,14,30),IEC 61683,IEC 60227,IEC 60502 IEC 60947 part I,II, III ,IEC 61215